Last Friday, well known women's health advocate and CervicalCheck campaigner Vicky Phelan took some time out of her day to write some kind words about Finding Peace by Sr Stan on her Instagram. Mrs Phelan, who is preparing to start a new round of radiotherapy, has shared that Finding Peace helps her get through the difficult days. As a contributor to the book, her words on her routine and how she deals with her struggles have struck a compassionate chord with many.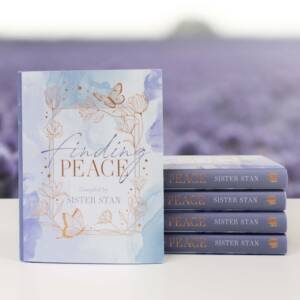 Making a point to note that she rarely promotes anything, Mrs Phelan outlined how Sr Stan had approached her in 2020 to contribute to the book and how it is really making a difference in helping her find peace today.
"I have been dipping in and out of a book I was asked to contribute to last year which I am finding very comforting so I just thought that some of you might too…The book is beautifully presented in hardback on the highest quality paper and is interspersed throughout with wonderful quotes and passages from the Bible."
Mrs Phelan's post has been liked by over 3,963 people and the comment section is full of positive, uplifting messages and praise for the book.
"It's a beautiful book. I bought it for my mum at Christmas. It has really helped her anxiety. Beautiful contributions."
"Sr Stan is the most beautiful person. She has the calmest aura and brings peace to so many. I pass her on my walk every morning. I must buy the book."
"Beautiful and brilliant legends all. Lucky, I am reading it again for the second time. It is a beautiful book."
With contributions from well-known Irish figures such as rugby player Jonathan Sexton, President Michael D. Higgins and presenter Miriam O'Callaghan, each six-hundred-word reflection in Finding Peace expresses how these influential figures find calm in their hectic and sometimes stressful lives.
Due to the fantastic response to Finding Peace, Columba Books has now run out stock of this wonderful title. A reprint is underway and for those who have already purchased a copy and haven't managed to get their hands on one yet, you won't have to wait too long as it will be available at the end of March. It would make a wonderful gift for a birthday or a pick me up for someone going through a tough time and is available to pre-order directly from Columba Books here.