Fr Daniel O'Leary's final masterpiece, Dancing to my Death, was launched last week, on Thursday 23rd of May. A crowd, including many of Daniel's family and friends, gathered at the Newman University Church in Dublin to remember Daniel, and celebrate his book. Daniel O'Leary died in January of this year, before the publication of this book, his parting gift to the world.
The book was launched by Fr Brian D'Arcy, who spoke wonderfully about Daniel's life, his work and the reasons he was so beloved: "We tended to believe what Daniel said about God because we understood that he knew God personally".
Fr D'Arcy spoke about the incredible feat and testimony that is Dancing to my Death: "Somewhere along the line Daniel probably began to say, I need to write a book of my experiences to help people through death. Actually, Daniel has written a book to help Daniel face death, and in the process found the God that he loved. … It's not a how-to-die book, that's not what it is, it's a raw, as it happened, reflection on the awful journey to chemo, operations, sickness, as well as a dismantling of what he thought he knew and believed about suffering. He understood what suffering meant for other people, he had to learn what suffering was to him and that's what we get in the book. It was growth by subtraction."
"This is Daniel's last will and testament, about God, about life, about suffering and eventually about death itself."
Margaret Siberry, Daniel's close friend and companion, flew over from England for the special occasion. She gave a beautiful speech about Daniel, his journey with cancer and how this book came to be:
"He was, even until the last days before he died, as you'll read in the book, still driven to try to understand more deeply, for himself and so he could pass it on to us, the meaning of creation and incarnation. He was always excited to imagine the impact it would have on our own lives if we truly believed and trusted that God is the love energy at the heart of our evolving universe and at the heart of our everyday lives."
"He had incredible energy, a love of life, a very natural charm, a sense of fun, and all of us here who knew him will know that he had a genuine love of people. And he transformed our community."
"He shared our lives, accompanied us on the ups and downs, with genuine love and compassion, and he delighted in our success and adventures … and he sorrowed with us in times of hurt, or loss or pain. … He wanted us to understand that we encounter God not in our life but as our life."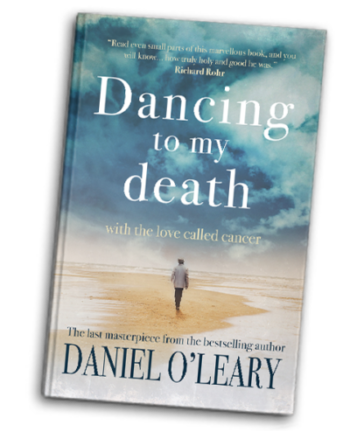 "How could he willingly embrace what was happening to him as the experience of God? Dancing to my Death with the love called cancer was his way of trying to answer that question. And he was rigorous and utterly courageous in asking himself the hard questions such as how could the pain, diminishment, and loss that he experienced daily be an experience of unconditional love? … What had he to learn from the presence of the tumour?"
"And the writing was also a way of him still reaching out to us – his dear readers. And he addresses us in the introduction and he talks to us throughout the pages of the book."
"He was, to the very last, still trying to live his vocation, to become more authentic and more fully human."
Margaret also told a wonderful story about discovering a note Daniel had scribbled at the bottom of a notebook: "I have a notebook that Donal was making notes for Dancing to my Death in and crossing them out as he went along and there's one page and it's written by the palliative care nurse, who'd written all kinds of notes for the GP who was going to come and visit about what medications she'd given him … this was on the Friday before he died on the Monday, and at the bottom, in his own hand with a circle around, he'd written 'Hastening to my death, thrilled at the beauty that awaits me'. And I thought, how marvellous is that. And he completely and utterly believed that what awaited him was wonderful and unimaginable."
It was an important evening, remembering Daniel O'Leary and the works he has left us. As Fr D'Arcy said: "What a man, what a priest, what a life, what a legacy."
If you would like to read Daniel's parting gift to the world you can get your copy of Dancing to my Death with a love called cancer by clicking here.