Fr Paddy Byrne's book, All Will Be Well: Digital Dispatches from the Parish, takes a look at some of the challenges we face while offering hope and inspiration through stories, parables and prayers to help readers overcome their obstacles. These are some of his reflections on Christmas, both on the joys and the difficulties.
"In my own home, Christmas was the only time of the year when my father never drank. As a child, I loved him much more when he was sober. There were no arguments or tension in our home. My dad was a wonderful cook, a gift I have inherited from him. His specialties were stuffing and trifle. Despite a tight budget, my parents would go all out. On Christmas morning, it would be our father who would bring us down the stairs to see our stockings hanging on the banisters full of toffee sweets. When my father opened the sitting room door, we were greeted by the smell of the fresh pine Christmas tree. There were always gifts, gifts well beyond what my family could afford; there were bicycles and guitars. The Christmas turkey was also a great treat. Christ, the reason for this season, was to the fore of our attention. Masses in the cathedral in Carlow and visits to the cribs around the local churches are dear memories. Subconsciously, I was greatly attracted to the image of that family so poor and fragile and yet rich in humanity and love. I never really got into the more material aspect of the winter holiday.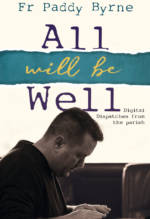 "Christmas is such a wonderful time of year. It is also a challenging time, particularly for those who experience bereavement, addiction, separation, financial or emotional concerns. Jesus is the God of the disenfranchised, the God of those who have not and long for something more. It's wonderful that poor shepherds tending their sheep were invited to be the first to see the Christ child, whose presence among us is as real today as it was over 2000 years ago. If Jesus was to be born again, he may well be born in a direct provision centre or one of the hostels that nearly 3000 children call home. There is no room at the inn for many people in Irish society. We have a very cosy and comfortable interpretation of the Jesus with whom we are presented in the liturgy. The radical vision and implication of incarnation fails to be truly communicated. The love of Christmas is felt more by those who have not than by those who have."
If you would like to read more from Fr Paddy Byrne, his book All Will Be Well is available here.