Mary McAleese has paid tribute to women fighting cancer at the launch of a book written about an iconic Irishwoman's journey through breast cancer treatment.
Mary Redmond Ussher (1950-2015) was a distinguished employment lawyer, academic and social entrepreneur, who changed the face of the charitable and hospice sectors in Ireland, by founding The Irish Hospice Foundation and The Wheel.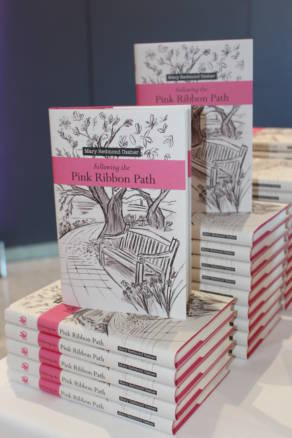 "She was successful in every sphere of life," Mrs McAleese said. "She had happiness with the love of her life. She had the motherhood of a phenomenal son. She had a busy career, recognised as an expert in her field, but still in that busyness she was on the look-out for those who weren't. Out of that was born the Irish Hospice Foundation and the Wheel, and these are amazing legacies to have left to all of us."
Mrs McAleese said this new book Following the Pink Ribbon Path is another aspect of that incredible legacy. "I think of all the people like Emma Mhic Mhathuna and Vicky Phelan and so many other men and women, mammies and daddies, facing a doctor across the table saying what was said to [Mary] and they are saying how in the name of God am I going to cope? And I hope that somebody goes into a bookshop, buys this and puts it in their hands and as they read it something in them calms, and their mourning turns into dancing."
Over the course of her own six-year journey with breast cancer, and inspired by her deep faith and spirituality, Mary Redmond Ussher lived out a path of love and compassion that she came to call The Pink Ribbon Path. During this time, she kept a journal of personal reflections, beautifully-crafted original prayers and inspirational quotes, which became a book published in 2013 called The Pink Ribbon Path.
Following the Pink Ribbon Path is a revised version of this book, published in Mary's memory following her death in 2015. It includes Mary's original writing and new testimonies from many of the people whose lives she touched and inspired, including poet Frank McGuinness, broadcaster Miriam O'Callaghan and former president, Mary McAleese.
Mary's son Patrick Ussher explained that the new book is a fulfilment of a promise made to his mother shortly before her death. "Two days before she died I had my last conversation with my mother. On that day, I told her how beautifully she had walked the Pink Ribbon Path and promised her that I would do my best to ensure that it would live on. Today marks the fulfilment of that promise."
Mrs McAleese said she hoped that people who are "facing that diagnosis nobody wants to hear but too many do", will "find in this book the answer they need to help them navigate that path that they are facing and turn it into the Pink Ribbon Path".