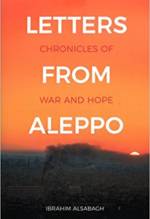 Sanford R. Silverburg
Father Ibrahim, a native of Damascus, Syria, is a Franciscan friar who has charitably served the Catholic community in Aleppo, Syria, since January 2015 through the auspices of ATS pro Terra Sancta.
While a friar studying for a PhD in medicine in Rome, he was called by his superiors in 2014 to serve the needs of the Custody of the Holy Land in Syria as a parish priest of the Latin Church of St. Francis of Assisi. He thus was removed from what he had known in Italy to the war ravaged city of Aleppo, the third largest municipality in Syria. To his credit, the author takes no obvious side in the ongoing conflict between the official Syrian government of Bashar al-Asad, the various rebel groups, jihadists, Russians, and Americans.
Missile strikes and sniper fire wreak havoc, devastation, and death, he details, on all, but mostly on civilians who can least protect themselves. It should be noted that the focus of this collection of newsletters and letters is the tragic condition of the Christian population in Aleppo, a minority among other minorities in an overwhelmingly Muslim country.
This is a first-hand account of a human tragedy. While a microcosmic testament, it does provide some insight into a contemporary civil war. This is an easy read and quite suitable for a high school classroom discussion.
March 2018
To purchase a copy of this moving book, visit our catalogue