Fr Michael Collins' 'Crazy Chronicles of a Parish Life' charts the thoughts, experiences and musings of daily life from decades of experience as a priest. Below is an extract from the book, with Fr Collins' considerations on the power of silence. 
'Let each of them keep silence in church, and speak to himself and to God.' That is St Paul, writing to the Corinthians.'There was silence in Heaven for about half an hour.' That is St John writing in the last book of the Bible, Revelation.
Well, I suppose half an hour wasn't bad. When it comes to learning to keep silence in sacred places the human race is still in play school. Even in Heaven, I'm sure there was one chatterbox who couldn't keep quiet for more than half an hour.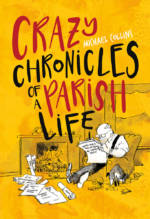 Even without the benefit of divine intervention the world knows the importance of silence. 'Silence is golden,' we are told. 'Silent Night, Holy Night'. You don't expect to hear someone singing 'Noisy Night, Holy Night.' But for some unfathomable reason, the human race cannot resist the temptation to sabotage every attempt to create a zone of silence, from the very depths of the forests to the very house of God himself.
In days gone by public buildings were havens of peace. The silence was so pervasive that one was tempted to whisper, even in the washrooms. We might have been taught from days of old that God is found in the quiet breeze rather than the earthquakes and the tornadoes, but we still continue to make noise.
The ancient monks used to take a single word and meditate on it for days rather than hours until they became completely absorbed in God, before necessity compelled them to return to the world of cleaning cells and preparing meals.
The practice of meditating spilled over into the parish churches, and novices in the practice sat quietly before God, waiting for Mass or service to begin, unaware that they were following in the steps of the great mystics and saints of the past. They were content just to be, and to be with God.
And then came the saboteurs, the noisy exhibitionists, with their pious novenas and their papal approval, and ruined everything. Can anyone think of a way of bringing back silence, not just to churches, but everywhere. Imagine what a blessing it would be!
If you want to read more from Michael Collins, you can order Crazy Chronicles of a Parish Life by clicking here.