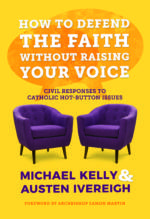 This past Saturday saw over 200 attendees congregate in the Red Cow Hotel in Dublin to discuss the subject matter of Columba's newest book, How to Defend the Faith Without Raising Your Voice, written by Michael Kelly and Austen Ivereigh. The book is intended to help Irish Catholics learn how to more productively disagree and address hot-button issues such as abortion and same-sex marriage with those of dissenting opinion. Speakers included Maria Steen from the Iona Institute, Senator Rónán Mullen, columnist and teacher Breda O'Brien, Frank Hurl of Catholic Voices Ireland and, of course, the book's authors, The Irish Catholic's Managing Editor, Michael Kelly and British journalist Austen Ivereigh. The event was a smashing success, with Columba selling out of all copies of the book that were brought to the conference.
In keeping with the book's theme, speeches given at the conference stressed the importance of defending the right to speak about faith issues and each talk was met with loud, enthusiastic applause. Breda O'Brien spoke of how to stay true to your opinions in the face of harassment and adversity. Senator Rónán Mullen addressed the challenges facing those who choose to speak up in the coming weeks leading up to the referendum on the Eighth Amendment, encouraging audience members to articulate their views despite these challenges. The uses and abuses of social media were also discussed in an open forum led by MC, Wendy Grace and the closing speech was by Cora Sherlock of the Pro-Life Campaign who said she was confident the result of the upcoming referendum would be a 'no' vote.
How to Defend the Faith Without Raising Your Voice comes at a key moment in Irish history, and is a must-read for Catholics wishing to learn how to better able express themselves in the social and professional situations in which they find their opinions on key matters of the Church doctrine called into question.