Reviewed by Jenny Dawson in the June 2020 issue
This is a beautiful book. It tells the story in images of a year at Glenstal Abbey, a Benedictine abbey in County Limerick, Ireland. From the opening foreword by the Abbot, through four seasons of photographs, the reader looks in awe at the ancient castle, smells the woods and flowers, tastes the food, hears the life of the school and soaks up the life of the monastic community — especially the seasonal cycle of prayer along with the rites of monastic life itself.
While I read, I was frequently called back to Abbot Brendan's words: "The primary purpose of a monastery is
the praise and worship of God and the sanctification of its members." He wrote: "Human life in all its phases is to be
found here" — and this is expressed in a series of Monk's Tales showing the various monastery roles — the Archivist, the Woodsman, the Poulterer, the Beekeeper, the Centenarian and many others. Valerie O'Sullivan's photographs show the diversity of life involving monks, lay people and school students in the huge complex that is Glenstal.
As a Lockdown reader, I found my heart was tugged by the section focusing on the preparation, enactment and
glory of Holy Week and Easter Day. What we have missed out on this year! But reading on I was reminded that spring will come again, Easter will come again, the seasons will continue to give shape and meaning to the life of faith, wherever we are. This gorgeous coffee-table book would make a lovely gift.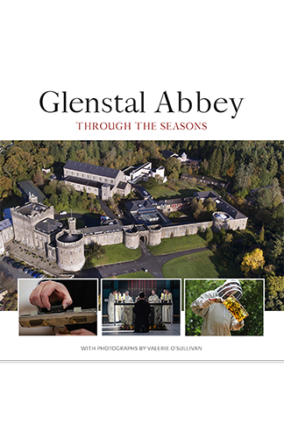 Glenstal Abbey: Through the Seasons by Valerie O'Sullivan is available to purchase here.