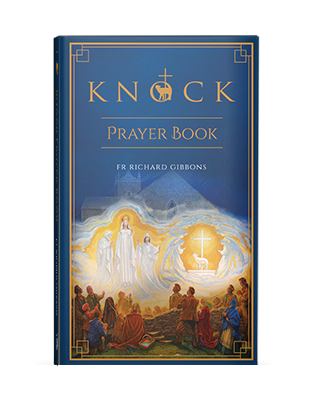 In August 2019 we celebrate the 140th anniversary of the apparition of Our Lady at Knock shrine. On the night of Thursday, 21 August 1879 a group of local people saw the Virgin Mary, St Joseph and St John the Evangelist appear at the church in the town of Knock. Several of the witnesses wrote their experience, with Patrick Hill recording that he "distinctly beheld the Blessed Virgin Mary, life size, standing about two feet or so above the ground clothed in white robes which were fastened at the neck". After the apparition, Knock became Ireland's national Marian Shrine and is visited by hundreds of thousands of pilgrims each year.
Knock…and still they come is a book which helps to explain both why Knock is still such an important place for people of faith and how it runs as well as it does today. The book is edited by Fr Colm Kilcoyne, who worked at Knock for over ten years. Fr Colm brought together many essays by those who work and volunteer at the shrine and by people whose lives have been effected by their visits there.
The book gives great insight into just how active the shrine is. From it, we learn that Knock offers many different services, such as counselling, a prayer guidance centre, a youth ministry service and a busy bookshop. There is also a Rest and Care and Day Care Centre where senior citizens from the area come twice a week to have meals, chat with friends and attend masses.
Knock Prayer Book, compiled by the rector of Knock Shrine, Fr Richard Gibbons, contains many beautiful prayers written by the rector himself. There are prayers on many different topics, ranging from prayers for workers, families and hospitality to prayers on nature and even dogs. These prayers are interspersed with calming photos from the shrine itself, to help you experience the essence of the place, even if you are not able to make the pilgrimage yourself