Where I Find God, edited by Cora Guinnane and Joanne O'Brien, reviewed by Frank Conlisk in Africa Magazine.
Through my years in parish ministry, many people have spoken to me about their experience of prayer. They discussed the joys and satisfactions of prayer certainly, but mostly they needed to discuss the struggles and challenges they were experiencing. Finding time to pray, being distracted, bored by repetition, "nothing happening", "is there anybody listening?" and the feeling that time was being wasted…all these issues and more were raised. 
Invariably I found myself suggesting to people that they lay aside their preoccupation with the "mechanics" of the business, that they take a step back and ask themselves: "Where do I find God?" In what kind of settings, situations, moments, events do I find myself aware of God's presence? When am I in touch with the Spirit within? When and where does God find me?
So, when my eye caught the title of this month's book review: Where I find God. Personal reflections from some of Ireland's finest Thinkers I was keen to take a look. 
This is a beautiful publication inspired by the experiences of Cora Guinnane and Joanne O'Brien former secondary school chaplains in Co Clare. In their own words "This book is an effort to combine many lived experiences of God". 
There are contributions from a wide range of Irish writers and poets, public figures and mystics who share, in a paragraph or two, their own personal encounter with the Divine. We hear from such diverse contributors as Sr Stanislaus Kennedy, Brent Pope, Fr Peter McVerry, Finbar Furey, Mary McAleese, Ronnie Delany, Fr Brian D'Arcy, Nóirín Ní Riain, Joe Duffy amongst many others. These encounters with the Divine are as diverse and varied as are the contributors. God's meeting with each one is unique. For many it is in the beauty of nature. For others, it is in the innocence of children or they meet God in every-day, human relationships. Most moving are the accounts of those who sense the presence of God in the midst of great tragedy and suffering. In this vein are the contributions of Elma and Fionnbar Walsh, parents of Donal who in May 2013 lost his battle with cancer at sixteen years of age. Fionnbar writes: "…there were times when I bartered with God to deliver us from the cross we were bearing. You don't barter with God; you learn, from the other child patients, that the line from the cross, Not my will but yours be done, is real."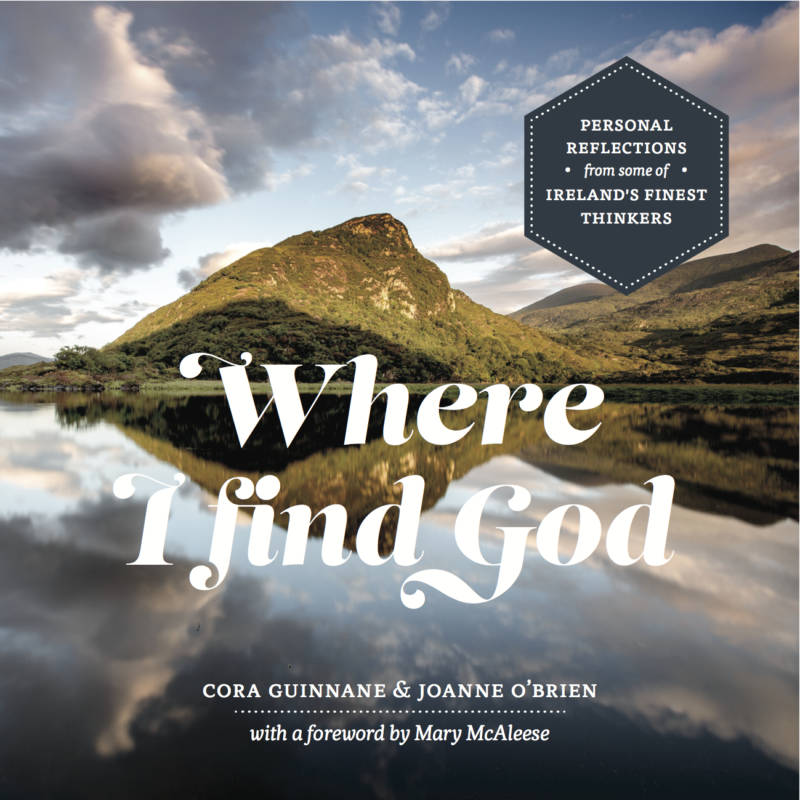 Intriguingly, the theologian, author and internationally acclaimed singer Nóirín Ní Riain writes on encountering God in sound. She quotes Meister Eckhart (1260-1328) Everything that I see, hear, touch, feel, taste, speak, think, imagine is completing a perfect circle which God has drawn. "This prayer," she comments, "from one of the world's greatest mystics, monks and scholars, has taught me so much about finding God through each and every one of our senses…For me, that sense-world is and always has been the ear; through the sense of hearing, I can frequently draw near to the message that the Spirit is trying to whisper into my ear."
This publication is in coffee table book format and the contributions are accompanied by some breathtaking photographs – the work of Christy McNamara, Norman McCloskey, John Kelly and Giles Norman. Many of the images are meditations in themselves. I found myself wanting to know where they were taken and who were the people in them. No such information is given. But then, perhaps the mystery is appropriate to the theme!
Where I find God is a book to be picked up, dipped into and savoured. 
All the royalties from the sales will be shared between Focus Ireland and the Peter McVerry Trust in the hope of making some small difference to those who are homeless. So this is a publication worth checking out for many reasons as we celebrate the season of goodwill.
December 2019
To get your own copy of Where I Find God you can click here.