The revised edition of Mary Redmond Ussher's book The Pink Ribbon Path, titled Following the Pink Ribbon Path, is an honourable tribute to Mary's life, with a new foreword and contributions to further enhance a book that provided solace for so many.
Being written while Mary was battling breast cancer, the original book offered inner peace to those in a similar situation at a time where none might have been readily at hand. Filled with prayers, reflections, poetry and meditations it offered support and encouraged readers to realise that they are not their disease, and that they can live a fulfilling life while still battling against it.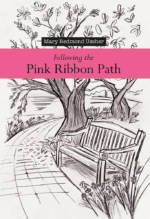 Mary, an academic, charity founder and lawyer, found happiness in her daily life through writing The Pink Ribbon Path, and in her introduction writes: "It is a path for healing, for living, for hope, a journey which once embarked upon becomes a daily joy."
The importance of the original book, and Mary's legacy since her death in 2015, is shown by the contributions provided in the new edition by those who were inspired by The Pink Ribbon Path. The contributions include many notable people such as Deirdre Garvey (CEO of The Wheel), Sharon Foley (CEO of The Irish Hospice Foundation), broadcaster Miriam O'Callaghan and former Irish president, Mary McAleese.
Ussher's son, Patrick, provides a foreword that gives a personal insight into Mary's thoughts through her diary entries as she put together the original book, and offers his hope for what this path will accomplish. "I hope that the pink ribbon path will unfold for you, like the slowly expanding petals of the lotus flower, towards that single and radiant sunbeam which can be found in the heart of each one of us," he writes.
Following the Pink Ribbon Path is as compact and inspirational as its predecessor, easy to pop into a bag and bring to any cancer treatment session. Along with being beneficial for anyone choosing to read the book, all royalties will be given to the Irish Hospice Foundation, which Mary founded.
This book would be the perfect gift for anyone going through a troubling time in their lives, anyone looking for inspiration, or anyone who was a fan of the original book or Mary Ussher's legacy.
To see why so many have been drawn to Mary Redmond Ussher's writings, or to buy yourself a copy of Following the Pink Ribbon Path click here.