Who was St Íte? Her feast day is the 15th of January and yet, like many Irish female Catholic saints, she's not much talked about. Author Lorraine Mulholland sets this to rights with her brand new book, St Brigid & Other Amazing Irish Women an encyclopaedia of Irish women from all walks of life who made a place for themselves in the annals of history as saints, scholars, healers and more! Staying true to the original stories as much as mythic and folkloric influences would allow, Lorraine aims the tales at young readers interested in learning about Old Ireland and its female heroes.
Interactive chapter ends where readers are posed questions to build their understanding of these figures and their adventures make this book appealing in home or educational settings. Accompanied by riveting illustrations, the book is a must-have for budding Irish readers with an interest in history, mythology, and folklore.
Keep reading below to read an extract from St Brigid & Other Amazing Irish Women and discover the story of St Íte.
Young Deirde, as she had been baptised, grew up in a royal family in Co. Waterford. That is in the southeast of Ireland, in the province of Munster. Right from when she was a girl, she showed that she was special, as she was said to have possessed the six ancient virtues of Irish womanhood! These were wisdom, purity, beauty, musical ability, gentle speech and embroidery skills.
As well as that, Íte had a very strong faith in God. She regularly fasted (went without food) and prayed. Once as a girl, when she was sleeping, everyone saw a wonderful light shining from her face. She looked like an angel! Another time, an angel actually appeared to her and gave her three precious gems. The angel taught her about the Holy Trinity through those three stones: the Father, Son (Jesus) and Holy Spirit. Indeed, Deirdre led such a holy life and desired to know God so much, that at some point she gained her other name, Íte, which means 'thirst for holiness'.
It was no surprise that when she came of age her father, Ceann Faoladh, and mother, Feidhealm (or Neacht) wanted their precious daughter to marry well. Indeed, her father was descended from a king of Tara in Co. Meath, who was the High King of the whole of Ireland. That probably put extra weight upon him to arrange for Íte to marry another noble. However, like so many of our wonder women, Íte refused to marry anyone. She fasted and prayed as was her usual custom. On this particular occasion, she fasted for three days and nights. Then, to Íte's delight, an angel appeared to her father and explained to him what a great life Íte would have serving God, and that she was to move to another part of Ireland. At this, her father allowed her to go away at once!
Íte and her sister Fiona set off. Íte was just a teenager at sixteen years old, but she was ready for an adventure! God, of course, led the way, as three lights in the sky showed them which way to travel. The first was at the top of the Galtee Mountains. They appeared to be going in a west-northwest direction. They looked around once they got there, and sure enough, another light shone in the sky over the Mullaghareirk Mountains (in the Sliabh Luachra area). They travelled roughly west this time. When they got there, finally the light stayed over a place north of them, called Cluain Credail ('holy meadow'). Overall, they were now far to the west of Waterford and in Co. Limerick.
The local chieftain offered her a large amount of land, but Íte would only accept four acres; just enough for her monastery's needs. She got busy straight away and founded a community there. She also planted a garden and grew vegetables. If you had a garden that you could plant vegetables in, what would YOU grow? In time, Íte's community became known as Killeedy (Cell Íte, 'Church of Ita'). She also started another community nearby, to the northeast at Kilmeedy ('Church of my Ita'). What a lot of directions! If you drive from Waterford City to Killeedy today by car it is about 100 miles (161 km). Some people think that she left from the barony of Decies-without-Drum in Co. Waterford. If that were true, it would have been a slightly shorter journey, but not by much. What a long journey Íte and her sister Fiona had!
As well as teaching those who joined her community (which was probably for both women and men), Íte had a school for little boys at Killeedy. She became the foster-mother of many saints. Fostering was common then in that time of Ireland's history. Let's look at a register of some of her pupils to see how they turned out!
 St Mo Chóemóc. He was one of her nephews. She also resurrected his father from the dead after a battle by reattaching his head! She was a funny foster-mum, as she gave him the nickname Pulcherius, as he was handsome. 'Pulcher' is Latin for 'beautiful'. He founded a monastery in Liathmore, Co. Tipperary.
 St Cumméne Fota. He became a brilliant theologian who studied God. No doubt this was because of his early days spent with Íte. He had over forty manuscripts in his library of holy books, which was a huge number back then!
St Brendan the Navigator. He stayed with Íte for five years, from when he was one until he was six. Not only did he start monasteries like Clonfert in Co. Galway, he went on a famous seven year voyage around the Atlantic Ocean discovering all sorts of unusual islands too! Even though he'd been young, Brendan never forgot Íte and visited her between voyages. Once, he asked her what three things God loved best. Íte said, 'True faith in God and a pure heart, a simple life with a religious spirit and open-handedness inspired by charity.' Another time Brendan asked her what three things God most detested. She said: 'a scowling face, obstinacy in wrongdoing, and too great a confidence in the power of money.'Can you explain in your own words what Íte meant, and do you agree with her?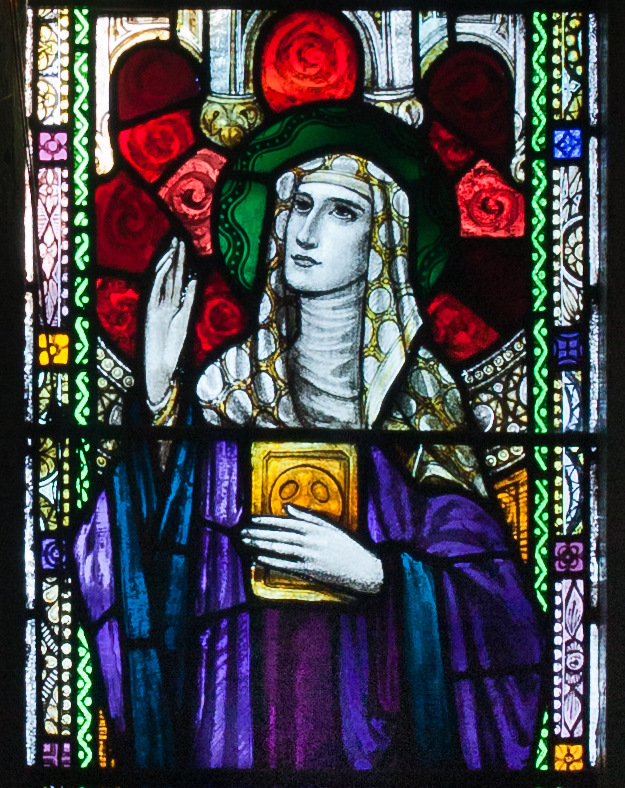 Íte also became known for many wonderful miracles. Here are just some of them! Once a local chieftain sent an urgent message: there was a 5,000 strong army from neighbouring Co. Kerry and they were only a relatively short distance away to the west, at Abbeyfeale. They looked like they wanted a battle! Íte told the Limerick soldiers to repent of their sins, and so they did. Íte prayed as the two armies clashed. All day they fought. The Limerick soldiers were fewer in number and should have been slaughtered, but Íte had been praying for them the whole time, and so the defeated Kerry men fled for their homes by sunset!
Íte had a lovely little donkey ('Asal' in Irish) who worked very hard. Every day Íte and her donkey went on a long journey to the pastures of Seeconglass, near Mountcollins to the southwest. It was about 10 miles (16 km) away. That just shows you how hardworking Íte and her little donkey were! After the cows were milked, Íte made the return journey with her donkey and the milk. What a long trip it was indeed! One day, as she was on the way home from getting the milk, she heard that there was a sick man in Tournafulla (which was on her way home), so she stopped to help him. Someone else might not have bothered, as it was such a long and tiring journey, but Íte, being so caring, decided to visit him. Now, while she was inside the sick man's house, her poor donkey was awfully treated by the villagers. He was beaten and some boys threw stones at him. He went running off into the River Allaghaun, spilling the milk everywhere! It is said that when her donkey stood on a big rock by the river, the donkey's feet sank into the surface and that to this day his hoof marks (and Íte's footprints) can still be seen.
Íte's famous ancestor was High King of Ireland, Felim the lawgiver (Fedlimid Rechtmar), who is said to have instituted the principle of 'an eye for an eye' into Irish law. After that, the behaviour of the Irish people is said to have improved! This rule is also in the Old Testament part of the Bible (Exodus 21:23–27), but Jesus urged his followers to 'turn the other cheek': You have heard that it was said, 'Eye for eye, and tooth for tooth.' But I tell you, do not resist an evil person. If anyone slaps you on the right cheek, turn to them the other cheek also. (Matthew 5:38-39, NIV).
Feast day: 15th January.
Other names: Íde, Ita, Mida, Ida, Ides and Deirdre.
There is a stained-glass window designed by Michael Healy in the National Gallery of Ireland. It shows Íte with St Brendan as a boy holding a toy boat! I wonder if Íte had been telling him bedtime stories of sailing adventures?
Íte's sister, Fiona, had a son called Flan of Ossa. He became King of Northumbria in present day England.
Íte was taught as a child about God as the Trinity. One modern way to understand the Trinity is to think of water. Water has three states: solid ice, liquid water and gas (which is also called steam). They are distinctive but all are water.
Despite the donkey being an iconic image of Irish rural life, it appears to have been little used in Ireland before the eighteenth century. There is no native word for donkey; the Irish 'Asal' comes instead from Latin asselus 'little ass'!
St Brigid & Other Amazing Irish Women is available to purchase from Columba Books.