Want to know how dying on the hide of a cow will get you straight to heaven? Or how you might use the girdle of St Mobi as a lie detector? Have you heard of the medieval Irish pilgrims who stole a statue of St David from a shrine in Pembrokeshire as a souvenir on their way home from Rome? Or of the dismembering of the perpetrator of a theft on a Croagh Patrick pilgrim in 1224? Or of the speaking crozier of Columb Mac Luighdheach?
If these tasters have piqued your curiosity, you will want to acquire a copy of Louise Nugent's recent study Journeys of Faith: Stories of Pilgrimage from Medieval Ireland.  Nugent is a County Tipperary archaeologist and curator of the popular blog 'Pilgrimage in Medieval Ireland'. This work grows out of her PhD research, but also out of many years visiting and writing about contemporary sites of pilgrimage around Ireland and their various rituals. This gives her a unique insight which goes beyond the documentation of pilgrimage rituals from the remote past and ensures that she treats of her theme not as a curious relic, but as a living, breathing tradition.
Pilgrimage studies have become an enormously important facet of historical research in recent years. Concomitantly, renewed interest in pilgrim paths and their development have also dovetailed with the emergence of what might be called religious heritage tourism. The demand for recent popular works such as Irish Times walking correspondent John G. O'Dwyer's Pilgrim Paths in Ireland: a Guide (2013) is testament to this. Louise Nugent's work makes a hugely important contribution to this area, bridging, as it does, a comprehensive historical survey of pilgrimage practice in Ireland with a breadth of knowledge of traditional pilgrimage sites and patterns, and their use, to the present day.
The category of 'Lived religion' is a burgeoning area of study across many academic disciplines today and Nugent makes an important contribution to it in this study. While rooted in a firm understanding of the past, she deftly communicates to her readers about religious traditions and practices that survive, in whole, or in part, to this day. And so medieval practices are often usefully juxtaposed with modern ones; for instance, the hat of St Thomas of Lancaster (d. 1322) is juxtaposed with an image of the relic of the silk chimney hat of the nineteenth-century Fr John Moore, still in private hands in County Westmeath. Likewise, she suggests that the miraculous cross that appeared at lake Baile an Chuilinn in 1482 inspired pilgrimage as much as the moving statues of the 1980s did at places like Mellary grotto in County Waterford. In keeping with current academic interests in religion and the sensorium, she is very attentive to the sensory experience of pilgrims at shrines such as Kildare.
Elsewhere Nugent quotes from an account of a pilgrimage to the shrine of St Gobnait of Ballyvourney, written in 1731, in which the statue was rubbed on aching limbs and handkerchiefs tied around its neck to be worn afterwards as a protection against illness. And, of course, there are many parallels with modern instances of interaction with the statue of St Gobnait. In dealing with the concept of 'holy dust' and sacred earth, she recalls how the king of Connacht's deafness was cured in 530 when earth from St Ciarán's grave was mixed with holy water and poured into his ear, but also mentions that the tomb of Fr Nicholas Sheehy at Shanrahan, County Tipperary, has a hatch in its side to facilitate the collection of hallowed earth to this day.
These associations are important because, although Nugent is not claiming that traditions have not evolved or changed over time, she is fully cognizant of the persistence of certain religious practices that, for some at least, make the world of the Middle Ages less exotic and far-removed than some would prefer to believe.
Contrariwise, we are well used to seeing statues which are lavishly clothed in a variety of garments for popular processions, especially in southern Europe and, indeed, in South America. However, what we often forget is that medieval Irish statues were also often similarly adorned. Nugent refers, for instance, to the theft of robes belonging to a statue of St Catherine at Christ Church, Dublin in 1311.
The book is written in a clear, accessible style. But don't be fooled by the volume's accessibility: the extensive endnotes for each chapter demonstrate how Nugent's work is based on a wealth of research, the breadth of which is hugely impressive.
What will also please readers is the sheer number of images that Nugent has included in the volume. The artistic reconstructions by J. G. O'Donoghue of scenes from Friar Simon Simeonis's trip to Jerusalem are a delightful addition, including scenes from Irish Franciscan friar Simon Simeonis's trip to Jerusalem in 1323. The reconstruction of a pilgrim praying at a gable shrine is likewise beautiful and literally helps to colour in for readers how such shrines may have been used. The inclusion of maps such as the pilgrim destinations visited by Irish medieval pilgrims on the island of Britain, is also very helpful.
There is also much cause to smile when reading Nugent's work. To make the point that not all pilgrim visits to shrines were purely motivated, she recounts a tale, first told by Guibert of Nogent, of a cash-strapped pilgrim who visited the cathedral of Laon and bent low to kiss its relics, but instead used the sacred proximity to hoover up some coins into his mouth before respectfully withdrawing.
This is a book that anyone interested in the history of popular religious practice in Ireland will want to have on their shelves. And, given the accessible and engaging manner in which the material is presented, it should be sought out by readers far beyond the realms of academia.
Professor Salvador Ryan, Professor of Ecclesiastical History, Pontifical University, St Patrick's College, Maynooth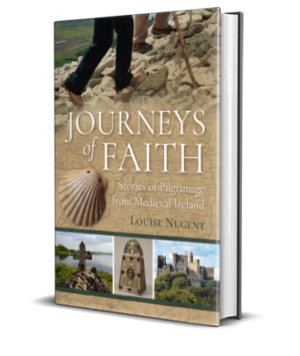 Journeys of Faith: Stories of Pilgrimage from Medieval Ireland by Dr Louise Nugent is available here.