Raymond Gillespie
Diocesan history has undergone something of a resurgence in recent years. As it was practiced in some of the classic works of the genre, such as Msgr O'Laverty's history of the Down and Connor, Canon Carrigan's history of Ossory, Cogan on Meath or Comerford on Kildare and Leighlin, diocesan history was little more than a collection of parish histories. However from the early 1960s, led by the example of Aubrey Gwynn and Dermot Gleeson's work on Killaloe, there have been attempts to understand the diocese itself as an important building block in the church.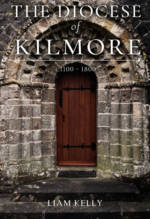 There have been distinguished contributions to the genre from Evelyn Bolster, Ignatius Murphy, Liam Swords and Paul McCotter to name a few. However this book is not simply a step in a wider programmatic treatment of the history of the Irish church. In its own right it is an impressive and distinguished volume that makes a significant contribution not just to the history of Kilmore but to the understanding of the Irish church as a whole.
Overall this is an impressive book that could well serve as a model for any diocesan history. The range of sources as revealed in the footnote will prove a revelation for anyone who believes that all documentary sources were destroyed in 1922 and clearly indicate the possibilities for diocesan history. The volume is both insightful and comprehensive as well as being clearly cogently written. It is useful both to the scholar in his (or her) study and to those who simply want to know more about where they live. The quality of the text is matched by the high standard of the production itself with over fifty colour illustrations with useful maps on the organisation of the diocese. This is a book that anyone with an interest in the history of the Irish church should read and they will be well rewarded for their efforts.
May 2018
To purchase a copy of this excellently researched book, visit our catalogue