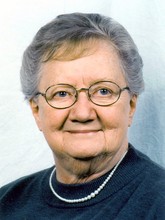 It's been a year since the death of Sr Anne Marie Mongoven O.P., an Irish-American Dominican sister and theologian. Her final days in July 2017 were spent editing her manuscript of Trinity: A Story of Deep Delight and we here at Columba Books are proud to have published her final work.
Last year Sr Mongoven celebrated 70 years of religious life, making her first religious profession in 1947.
She was a teacher and mentor at Santa Clara University in California from 1982 to 1997. In 1992, Santa Clara University awarded Sr Mongoven for outstanding achievement in teaching, research and service in the Department of Religious Studies.
One of Sr Mongoven's previous students, Dr Bridget Burke Ravizza, described her as a "bad ass nun".
Ravizza is an Associate Professor of Theology and Religious Studies at the Cassandra Voss Center at St Norbert College in Wisconsin.
When asked about her memories of Sr Mongoven, Dr Ravizza told us: "I remember being invited to ask theological questions with a critical mind and open heart. It was the first time I recall being exposed to feminist theology, and it opened up new and powerful ways for me to think and talk about God."
Dr Ravizza said that Sr Mongoven invited her into her office to ask her if she'd consider studying theology because of the need for "good women in the field".
"I blame her for the fact that I got my Ph.D. in theological ethics and that I've been teaching at the college level for nearly 20 years," Dr Ravizza says.
Though Sr Mongoven's insight proved to be a major influence on Ravizza, she was also a close friend. The two women had meals together, and Sr Mongoven even met Dr Ravizza's father.
"She and my Dad were both Irish Catholics who grew up in Chicago and I knew they'd hit it off," Ravizza said.
Sr Mongoven and Dr Ravizza often spoke to each other about what they were writing about and also prayed for each other.
"I never stopped learning from her, and she never stopped learning. She was intellectually curious, and a very gifted thinker and writer. She wrote clearly and beautifully and from the heart. I loved her, and I am thankful that she knew it. Her confidence in me and her prayers for me lifted me up for all the many years that I knew her," Dr Ravizza said.
In her life, Sr Mongoven had three books published. Signs of Catechesis: An Overview of the National Catechetical Directory was published in 1979, while The Prophetic Spirit of Catechesis: How We Share the Fire in Our Hearts was published in 1999.
Columba Books published her final book, Trinity: A Story of Deep Delight, earlier this year.