Laois News by Stan Henderson
April 2022
THE popular Reverend Peter Tarleton Stewart, who retired to Bangkok in September 2020 after 46 years as an Anglican clergyman serving Portlaoise and Killeshin, has been far from idle since retiring, having just written his first book.
Rainbows & Windmills, published by Columba Books, is based on 21st century spirituality. It covers many topics, including the reverend's childhood experiences, essential elements of spirituality, Christianity, church and bible.
Buddhism, Judaism, Islam, paganism and atheism are also explored, as is health and healing, death and dying, hospitals, hospices and prisons, along with the power of fasting, prayer and silence.
The reverend, who climbed Mount Kilimanjaro on his 70th birthday to raise funds for charity, has acted as chaplain in schools, hospitals and prisons, worked as a clergyman in Portlaoise, Killeshin, Cork, Cavan and Dublin and has always been interested in politics, particularly recognising how politics often serves the interest of the few to the exclusion of the most vulnerable.
As a Christian, he sees the world as a place in which to be actively involved. He has called on the church to be bold in its service to humanity and respectful in its care of the Earth.
Reverend Peter takes up the story of his retirement.
"I arrived in Bangkok on 1 October 2020 and spent 15 days in a quarantine hotel. It wasn't pleasant. I was unable to get outside to exercise most days due to rain. As many people know, I spent 21 years in prison as chaplain, so I just got my head down and waited for my release date.
"Once released, I flew home to Chiang Mai, one hour north, where I was met by my wife Nok and our boy Money. He is Nok's grandnephew and we have the care of him as he grows up. He is nine and a great young lad.
"I soon sorted out my bags and books and began writing, just a little every day. The rest of our belongings were in transit and arrived around Christmastime. The hot weather became more tolerable by November and I was able to sleep without air-conditioning, so we took a short holiday down south to a beach hotel on Krabi, where we exercised, ate and chatted without a care.
"The flight felt safe enough, but we wore our masks without being asked to. By Christmas, I was anxious while attending church, as most people had stopped social distancing and many were taking off their masks to sing. I played safe and stayed away from them.
"By January 2021, the Covid figures for Thailand began to rise steadily and the former sense of safety was now replaced by some alarm. Restaurants, bars and schools closed. Money was having online classes on weekdays and he had homework which Nok and I shared with him between us. Apart from a few weeks around May last, he was home-schooled right through to February this year. We were all exhausted by this and he was becoming disinterested and difficult, understandably.
"We have survived so far and he has been back in class for several weeks now; however, he recently tested positive for Covid, having contracted the virus from a child two houses away. His condition has not been serious, apart from a sore throat and coughing. Nok and I have both tested negative. The local authority hung a large sign on our gate to warn the community that we have Covid as though we were unclean.
"Because of the pandemic, much of our lives have been very domestic. I attend the gym six days a week trying to maintain a daily ten-kilometre programme split between the treadmill and the bike. When possible on the other day, we try to have a massage. We are really very generous to ourselves. This regime allows me to eat more or less anything that takes my fancy without concern for weight or waistline.
"I have discovered that one mid-day meal a day suits me best, with porridge in the morning and fruit salad in the evening. You couldn't complain about that. I also fast each Friday to give my digestive system a break and to remind myself that when I'm feeling hungry I have a choice and many do not.
"So far, I do not feel retired. I do feel well rested and ready for work again. I retired from the Prison Service in England at the age of 60, then from the NHS at 65 and more recently from the Church of Ireland at 74. Where next? No, I don't imagine that I will live forever. I do believe that my best years are ahead of me and that I have at least one more job to do before I settle down for my final retirement! What form that will take I don't yet know.
"The writing has been very stimulating and reflective. Book One is now available and on the bookshelves and I am already well into the next one called Butterflies & Bees, which should be available by the beginning of next year. I do have a third book planned, which is at the very earliest stages. Now that I am in a writing mode, I think I could still work and write, but time will tell.
"I download a cryptic crossword every morning from The Guardian, so I get the synapses functioning by breakfast time. I don't always finish it, but I am improving. I don't miss the activity of running the parish, but I do miss the people and the sense of community, which has always been a part of my work. I think particularly of St Fiacc's House in Carlow, where Fr John Dunphy invited me on to the board of management and 'The Kitchen' project providing lunches for so many people in the area. I think of all the farmers who befriended me on my weekly visits to Carlow Mart and of the many homes that offered me 'home from home' as I moved around the parishes accepting their warmth and hospitality. Could life really be any better?" he said.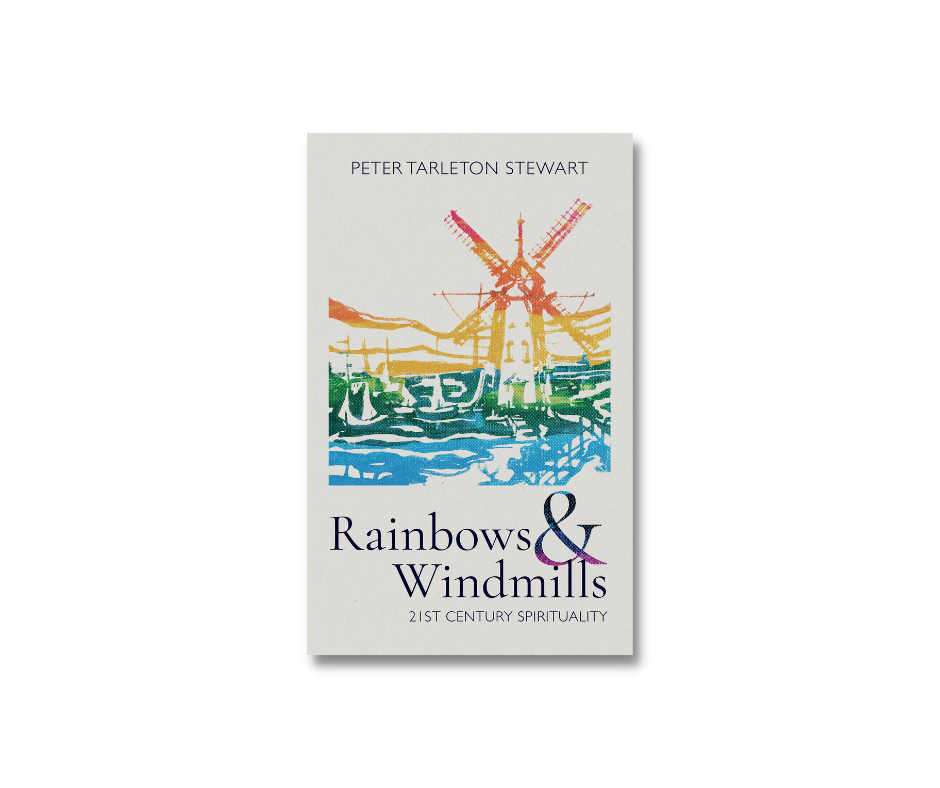 Rainbows and Windmills: 21st Century Spirituality by Peter Tarleton Stewart is available here.