One of the highlights of Pope Francis' visit to Ireland in August was his short sojourn outside Dublin to visit the Marian Shrine in Knock, where despite the terrible weather gleeful crowds greeted him on the streets with joy.
Archbishop Michael Neary of Tuam has revealed that the Pontiff sent a letter of gratitude for the warm welcome and hospitality shown to him in this small village in the West of Ireland. He also gave his Apostolic Blessing to the people of Knock and all pilgrims to the shrine. The letter will be kept in the Knock archives as a reminder of this important visit, a celebratory event that gathered throngs of people to witness and welcome the Pope.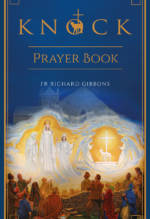 Earlier this year Fr Richard Gibbons, rector of Knock Shrine, wrote the Knock Prayer Book, a collection of prayers that he has both written and personally chosen from among pilgrims' favourites, which were inspired by life at Knock, what Knock means to those who live there or visit, and the feelings the Shrine and Our Lady of Knock inspire. It is filled with prayers for daily life and for every occasion – healing, work, exams, family and loss.
In his letter, Pope Francis also imparted that the time he spent in prayer and contemplation at Knock Shrine served as a reminder that prayer is an essential part of all that we do for the Lord and the Church. The Knock Prayer Book provides a way to include prayer in your daily life and the opportunity to pause, reflect and offer thanks as you pray for the people and the world around you.
Whether you are making your own pilgrimage to Knock or if you want to incorporate prayers to Our Lady of Knock into your daily life, the Knock Prayer Book is perfectly sized to fit in your bag, so you can bring a little piece of Knock with you wherever you go.
If you want to learn more about the story of Knock or get your own copy of the Knock Prayer Book you can click here.