Archaeology Ireland
The past in the present
Summer 2020 (Volume 34 No. 2, Issue No. 132)
Pilgrimage has never been an official part of Church doctrine, yet it is an activity with which most are familiar and in which many have taken part at some scale at some stage in their lives.
Some pilgrimages, such as the act of walking up Croagh Patrick in Mayo or trekking the Camino de Santiago, are famous, while others, such as Masses at sites like holy wells or individual visits to other holy places, are more private or localised activities. While they are still very much part of modern life, we are also aware that many of these pilgrimage routes and activities have roots in our past.
Journeys of faith – stories of pilgrimage from medieval Ireland by Louise Nugent (Columba Books 2020, €26.99, ISBN 978-1-78218-372-3) is a wonderful, comprehensive exploration of the information available about pilgrimage in the medieval Irish world. Using archaeological, historical and hagiographical evidence, Nugent examines the places, monuments, landscapes and relics in the Irish landscape that attracted pilgrims locally and sometimes from further afield, and also looks at the evidence for Irish pilgrims abroad, where they went and who there were.
The reasons for going on pilgrimage were as varied then as they are now, including faith penance or a search for a miraculous cure, and the devotions performed ranged from prayer and fasting to making rounds, perhaps on one's knees, and giving gifts. The destination is only part of any journey, however, and Nugent also considers the journey from start to finish, from preparations to the practicalities, dangers and methods of travel, and even the return and what souvenirs might have been brought back.
The inclusion of extracts from and descriptions of individual stories of pilgrimage – such as that of fourteenth-century Irish Franciscan friar Simon Fitz Simon, who travelled from Ireland to Jerusalem – brings the informative text to life.
Attractively illustrated, engagingly written and thoroughly researched, this book is set to become a standard reference for anyone interested in pilgrimage in Ireland.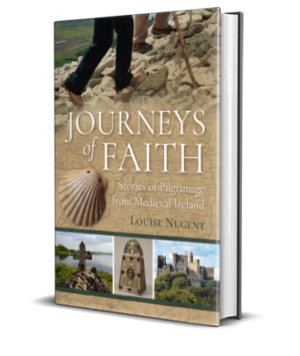 Journeys of Faith: Stories of Pilgrimage from Medieval Ireland by Louise Nugent is available here.