'Journeys of Faith, Stories of Pilgrimage from Medieval Ireland' by Louise Nugent
The Irish Antiquarian – June 20
Religion and worship played a central role in the personal and political lives of the medieval Irish. The numerous ecclesiastic remains scattered throughout the island attest to that, as do the wonderful illuminated manuscripts (such as the Book of Kells) and the treasures in the National Museum (cross of Cong etc.).
Individuals undertook pilgrimage for a variety of reasons, temporal or spiritual. A pilgrim may have undertook his journey for spiritual gains and to gain indulgences. Indulgences reduced, or eliminated in some cases, the amount of time an individual would have to suffer in purgatory after their death for sins committed during their lifetimes. Once they "served their time" in purgatory and purified their souls, one could enter heaven. Others may have undertaken pilgrimages for more temporal reasons, as an adventure, for social reasons or perhaps because they had been ordered to by a court for some misdeed.
Many of the wonderful ecclesiastic remains we explore today served as centers of pilgrimage in medieval times, usually associated with the feast day of the Saint the ecclesiastical center was associated with. But what did these pilgrimages look like? Who went, who didn't, what rituals were observed and why? How did pilgrimages start and some end? All these questions, and more, are answered as best as they can be in Dr. Louise Nugent's important new book 'Journeys of Faith, Stories of Pilgrimage from Medieval Ireland'.
Dr. Louise Nugent is the author of the Pilgrimage in Medieval Ireland blog and an archaeologist from Tipperary. Before reading this book I was not familiar with the author's blog, but I have been dipping in and out since and it is very much worth a look.
'Journeys of Faith, Stories of Pilgrimage from Medieval Ireland' covers the entire spectrum of pilgrimage, utilising both written and archaeological sources, coupled with the author's incisive, informed opinion to explain pilgrimage as it was for the medieval Irish both in Ireland and abroad, and indeed, for foreign visitors to Ireland. Of particular interest to this reader is the extensive usage of religious and hagiographical sources. Dr. Nugent deals with these sources respectfully – accounts of miracles or people seeking cures and the like are presented in a matter-of-fact way and not in a patronizing fashion. The religious beliefs of  the medieval population are treated with respect and the author is mindful that significant numbers today still undertake pilgrimages. Architectural features of pilgrimage sites are explained, but so are the connected religious beliefs and intent. Much focus is give to discussion of relics, which often served as the "featured attraction" for pilgrims.
As someone who has visited many ruined churches and monastic sites I sometimes struggle to picture what the building interiors looked like. Most texts deal mainly with architectural features with a focus on interesting features which are still extant, sometimes divorced from the religious and spiritual meaning of the space. In this book however, much focus is given to what pilgrims would have seen and experienced inside the buildings, with brilliant detail on the appearance of things such as rood screens, reliquaries, shrines, floor tiles etc. It is a tribute to Dr. Nugent that the reader can almost picture themselves alongside the pilgrims on their journey.
The book is heavily illustrated with drawings, maps and in particular many excellent photographs, most taken by the author herself.
'Journeys of Faith, Stories of Pilgrimage from Medieval Ireland' has the wonderful quality, which few books have, of the text prompting questions in my mind and then shortly thereafter comprehensively answering said questions. Typically for me this generally involves having to dig out another book and cross referencing.
For this reader, books generally tend to fall into two camps: books which answer questions and books which make me think. This book does both.
Usefully, notes are presented at the end of each chapter rather than at the end of the book. A lengthy bibliography is included, as are two indexes split into "Subjects" and "Places and Names". Published by Columba Books, (typically a publisher of theological and spiritual texts) the physical book itself is a nice hardback, well laid out and solidly bound. The dust jacket isn't flimsy and is well designed.
Given the amount of photograph's featured in the book, one would generally expect a glossier paper than the one used, but it works well. There are decent sized margins which allow space for notes which I always appreciate. The only petty thing I would nit-pick at is that I found a few errors which should have been discovered at proof reading stage (such as the omission of words, or on one occasion, the duplication of an image attribution text). These should be corrected for any future editions.
In conclusion, should you be in any doubt, I highly recommend this book if you have any interest in medieval Ireland. It would also be of interest to a wider audience, particularly Irish Catholics who may have attended pattern days at holy wells, climb Croagh Patrick or have gone on pilgrimage themselves to places like Lough Derg,
You can, at the time of writing, buy the book directly from Columba Books for €26.99 plus postage, or from Book Depository for €16.22. Unless money is particularly tight, I would encourage you to buy from the publisher or your local independent bookshop. At the end of the day, wherever you decide to buy the book, you will be buying what is probably the definitive book on pilgrimage in medieval Ireland.
Now, can anyone tell me where to buy a pilgrim's staff?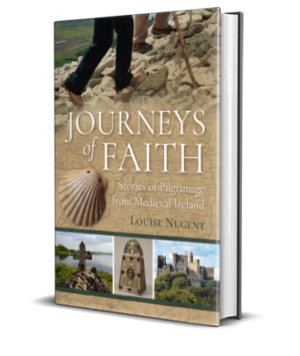 Journeys of Faith: Stories of Pilgrimage from Medieval Ireland by Louise Nugent is available here.