Since its release in December 2017, A Year in the Life: Glencairn Abbey has taken Ireland by storm. The book that chronicles the life of Ireland's only Cistercian monastery for women is in its second print run after having completely sold out. Incorporating the stunning photography of Valerie O'Sullivan, the book gives readers a glimpse into the tasks that form the rhythm of this enclosed order's days.
Photos of the sisters tending to their flock of sheep, painting candles, and mowing the abbey lawn also remind readers that this monastery is completely self-sufficient thanks to the nuns' hard work. Proceeds from the book will help the monastery construct a new guesthouse and hospitality centre to accommodate the visitors that flock to this calm oasis of tranquillity in the heart of Co. Waterford.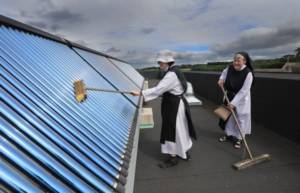 Not only has the book charmed the hearts of many readers; the press has also gone wild for its release. Below are just a few of the many glowing endorsements the book has received since its debut.
The Irish Examiner calls it a "rare insight in images and words into the daily lives of those who inhabit the only Cistercian monastery for women in Ireland".
Killarney Today describes it as "A FABULOUS collection of images".
It is a "magnificent photographic account"."Give this book, which details lives uniquely lived in our county, a perusal. It's well and truly worth it", says the Munster Express.
Deirdre Walsh from Radio Kerry describes it as "beautiful" with photographs of "magnificent quality"; "the kind of present I'd love to get myself" in an interview with one of the nuns of the abbey.
The Irish Times voted it one of its 'Photobooks of the Year' for 2017.
The Irish Daily Mail said it was "a beautiful coffee table book" in the 4-page spread they featured of the book in January.
Head over to our catalogue and get yourself a copy today!