Peter Costello
This book reminded me in a way of Markings, Dag Hammarskjöld's only book. Hammarskjöld described his book as "a sort of White Book concerning my talks with myself – and with God". Both have the same commonplace book structure of the author's thoughts mingled with apercus and fragments of insight from other writers.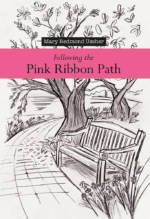 In her last years of illness and her treatment for breast cancer Mary Redmond Ussher distilled her feelings, hopes and beliefs into a series of poems, her own vag marken, or way marks.
Here her poems are set in a diadem of other thoughts she had come to feel and to admire. It has been edited since her death by her son, who had added another layer in short tributes from friends and admirers who had known and loved her, both in the full stream of her life and in her last days.
In a way she triumphed over her death by living on for others as the founder of The Irish Hospice Foundation and The Wheel. These were to support causes next to her heart, services to the terminally ill and support for organisations that promoted good citizenship in civic society.
This was all very much in keeping with a belief of her mother's, which she in her turn had heard from her father before her. Mary had asked her mother what was the essential meaning of life. She replied: "To live, to love, and to leave a legacy."
This book, arising from Mary's life and loves, is very much a legacy to be treasured. It encourages a mindful, meaningful encounter with life through death. This is a book which is very personal, yet will I think, become important in the lives of many others. Here for many will be a book to treasure.
October 2018
To purchase Following the Pink Ribbon Path, check out our catalogue here