Peter Costello
This delightful book had its origins in a competition run by The Irish Catholic with primary schools all over Ireland encouraging young children to write a letter of welcome to the Pope on his visit in August this year to Dublin for the 'World Meeting of Families'.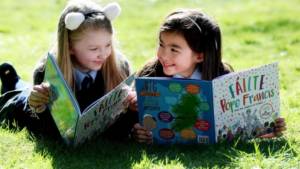 Nothing could be more appropriate, for, after all, children are the very heart of family life.
Here are printed a broad selection of their letters and drawings, a fraction of those sent in. All speak words of welcome from their hearts and add their own images to enhance them.
There is a fine photograph of Pope Francis sharing with a group of children a very similar publication: happiness registered on all their faces. There seems from these pages a  immediate connection with the Pope for all them, as if he were the grandfather of the coming generation – which perhaps he is.
The letters give, moreover, a sense of the enthusiasm which the citizens and parishioners of tomorrow feel about the Pope himself and give a hint of their own very real warmth and vitality.
The naivety is both charming and reassuring. Here are hearts and minds as yet uncorrupted by the devouring tendencies of modern life.
This is a book which children, parents and grandparents will enjoy. It should serve to awaken at last the imaginations of those who have not perhaps as yet, unlike these children, given any thought to what is up-coming.
March 29, 2018
To purchase a copy of this delightful book, visit our catalogue