It's difficult to ignore the success of Columba's latest publication, Fáilte Pope Francis. The Pope will visit Ireland this August for the World Meeting of Families 2018, and in preparation, The Irish Catholic newspaper held a contest to award the schools of the three best artists with cash prizes ranging from €250-€1000. The drawings of winners Aoife Murphy, Fionn Roche and Adam Phylan, along with 35 other entries are included in Fáilte Pope Francis, allowing readers to share in these children's delight as they eagerly await the papal visit.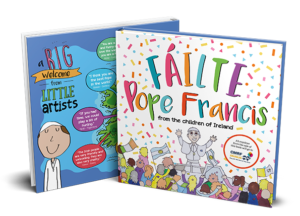 Mags Gargan, the Managing Editor of Columba Press along with four of the children from the book – Aoife Murphy (Louth), Maja Reilly (Dublin), Brandon Carroll (Kilkenny) and Grace A. Costelloe (Kilkenny) – were interviewed on The Today Show with Maura and Daithi on RTE One television on March 26. Daithi called the book "beautiful", "a dream project" with "very special pictures" and letters that would make for a special welcome for the Pope this summer when he visits for the World Meeting of Families.
The Irish Mirror and The Nationalist also praised the book, calling it "beautifully produced", while The Irish Sun noted the book was "welcome" among readers.
The book, and its primary school contributors, have also received attention from The Limerick Leader, The Meath Chronicle and The Dundalk Democrat.
One of the students was also interviewed on KCLR 96FM (Kilkenny and Carlow).
As we get closer to the Pope's visit to Dublin this August, interest for the book is sure to only increase, so grab your copy from our catalogue today!