The perfect antidote to the stresses of modern life, Awakening Inner Peace, the latest book from Sr Stan, is an invitation to pause, reflect, listen and come to a new understanding of the deep inner peace that can be found in silence. Sr Stan has chosen a selection of short psalm extracts, reflections and prayers to provide moments of calm contemplation throughout the day.
Sr Stan, a Sister of Charity, is best known as a tireless social justice warrior, particularly working with the homeless through her charity, Focus Ireland. However, she has also helped many people in her role as a mindfulness teacher and founded The Sanctuary, an oasis of peaceful meditation and mindfulness in Dublin city centre.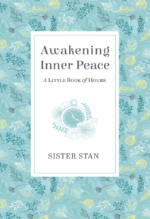 Sr Stan brings this meditative calm to this beautiful new book, as she says, "there is another way to live in this noisy, distracted world of ours and this way is not as far out of our reach as we think. It speaks to our hearts because it is a universal call to enter the now, a call to stop, to listen, to hear the message of the moment."
This exquisite book is arranged as a book of hours, which is structured around the monastic schedule of daily prayer. The monastic day is divided by the canonical hours, each with their own chants and prayers most suitable for each phase of the day.
While the reader can follow this pattern, they could also dip in and out of this book whenever they are in need of spiritual comfort and a moment of peace.
Sr Stan explains that the monastic rhythm of the day is a lost art. "Earlier generations, which were not ruled by alarm clocks or calendars, saw the hours as the way the day naturally ebbed and flowed through shades of light and darkness," she says.
The format of this book puts the reader in touch with the natural rhythms of the day, and the rhythms of life and the universe, away from the hustle and bustle of the everyday. Sr Stan is calling us to live intentionally, focusing on the present moment and not an endless list of deadlines and agendas.
If you want to find out more about bringing stillness and meditation into your daily life click here.