Daniel O'Leary's An Astonishing Secret offers insight inspired by the writings of Pope Francis. O'Leary dives into the way that our idea of God has changed, and explains the ways in which we can change our thinking regarding God and our overall views of the world we are in.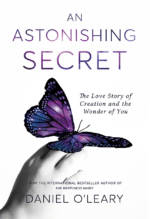 In the book Fr O'Leary says that "we think that fulfilling church laws is what Christianity is about", but that that way of thinking is farthest from the truth, using Pope Francis' views on the matter as support. O'Leary explains how "Religion all too often becomes a suffocating dead end, a stultifying straightjacket that cripples the freedom of the daughters and sons of the loving Creator". In this novel, he offers solutions to make sure that does not happen.
Each chapter offers a different view on what we think classifies as a "good Christian", and how we can use experiences that happen outside the church and in our daily lives to add to our faith in new ways. It is a novel that makes you think, and sticks with you long after you are finished reading.
"There is a delightful, compassionate and poetical quality to Daniel O'Leary's writing. I find it refreshing and thought-provoking," Anthony Redmond wrote in his review of An Astonishing Secret in The Irish Catholic.
An Astonishing Secret is a quick read with more than enough material to make you wonder how making small changes in the way you think throughout the day can ultimately add to the happiness and confidence you have in your faith, as well as in your life. Anyone who is looking to make a change in the ways in which they view their surroundings on a spiritual level would greatly benefit from Fr O'Leary's explanations and support of Pope Francis' writings.
To dive deeper into Daniel O'Leary's thoughts, buy yourself a copy of An Astonishing Secret today!